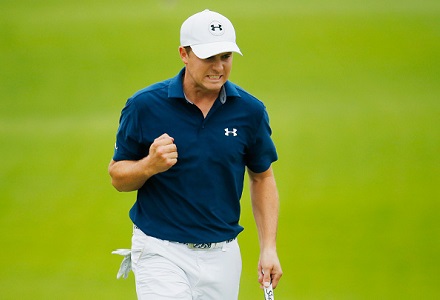 The venue for this weeks Stateside tournament is the Coloniol CC which is a classical layout that rewards good tee to green golf. Down the modern era the more strategic golfers have tasted victory here. Kenny Perry (twice), Zach Johnson (twice), Chris Kirk, David Toms and Steve Stricker have all won here. What they all have in common is a very impressive wedge game. We'll be looking at players with similar games to those mentioned for a win this week.
Jordan Spieth
remains very backable at a top price of 15/2. He was second heading into day four lats week despite playing some abysmal golf tee to green. That is ominous to say the least as I'm sure he will have put a fair amount of work in these past three days to get his game into better nick. The famous red hot Spieth putter is slowly but surely coming back and one of these weeks we'll witness it in full bloom once again. I have to admit I have been very tempted to back Spieth this week.
The course is narrow off the tee which isn't ideal but I fully expect a better tee to green game this week. 2nd, 14th, 7th are the results of his three outings here thus far so he must have a very reasonable chance. With pressure growing on him to win in Texas I certainly believe he'll get the job done soon. I'm searching for reasons not to bet the lad this week and I'm afraid I can not be dissuaded. He rates the best bet and I didn't expect to see 15/2 and 7/1. He downed tools somewhat on Sunday after a tiring week of mishaps. People tend to forget how good he is. This is just a blip, and believe me it won't turn into a slump, he is far too good for that.
Open an account with BETFAIR and when you bet £10, you get £30!
With Charley Hoffman 5th in the betting, Chappell 6th, and Colt Knost mighty high up the list, Spieth doesn't have an awful lot to beat this week. Some of last weeks holes were a bit of a stretch when he wasn't striking the ball well. Length caught him out a few times. This week should be more up his street and if he can start striking the ball then we should see him towards the top of the leaderboard again. A solid record around here and gets my vote.
Jordan Spieth - 3.5pts @ 15/2
Won 26.25pts
This tournament holds little in the way of opportunities but one who must have a chance this week is double winner
Zach Johnson
. He is playing just fair golf recently and not lighting up the course. Coming back to Coloniol is one of his favourite hunting ground and I was surprised to see a top price of 25/1 available. 5 of his last visits here read 19-3-WIN-4-WIN-9. That is a phenomenal record for someone whose game really suits the place. The price alone dictates this bet as there's no way he should be double the price of Adam Scott and 11pts bigger than Matt Kuchar. A solid value selection.
The rest of the field is of no interest to me, and if any of them win it, so be it. Brandt Snedeker is a decent price considering his credentials for these kind of tests. His game has been off lately however and I don't want to waste any more money second guessing when he is going to improve.
Zach Johnson - 1.25pts e/w @ 25/1
Lost -2.5pts