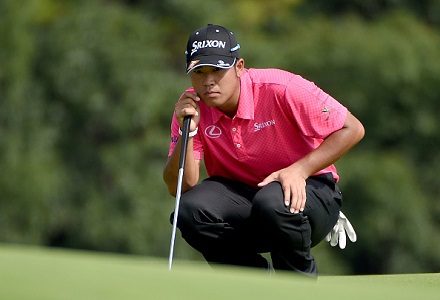 Our golf expert has picked out his best tips from the third day of the Open.
It has been a super contest to watch thus far (in my opinion) and despite the world number one having a comfortable lead at the minute it is far from over. Dustin has found himself in enough trouble over the first few days but his powers of scrambling have been better than ever.
The dominance around the greens is unlikely to continue for four days on the trot so there is an opportunity for those in behind to get closer to him if the putting deserts him this evening.
If he plays the same around and on the greens than what he has done on the first few days then it is curtains, but it is very difficult to keep that level up for four days, especially around a track like Shinnecock which will probably firm up a shade over the weekend.
Our Top Spanish bet has landed to recoup some losses if this weekend doesn't go to plan but with all five golfers making the cut I would be extremely disappointed not to at least get a place return with the offer that was available pre tournament.
My first bet today is placed on Hideki Matusuyama. Hideki has a habit of going very low when he is on the fringes of contention and with a top 20 already posted at this years Masters I believe he could go on to notch another top 20 at Shinnecock.
His game looked in decent nick last night and most importantly it looked like his putter was beginning to roll, especially on 18 last night when he rolled in a lovely putt at super pace. When Matsuyama gets the speed and the lines on the greens you have to watch out and it wouldn't surprise me if he manages to get into the final handful of groups on Sunday.
His opponent Dechambeau has played solid to this point but I think his driving will bite him at some point over 72 holes here and I'm happy to take the chance that it happens today. I think Bryson was well underpriced heading into this major which contributes to a nice price about Matsuyama today.
Hideki Matusuyama 2 Ball Winner - 2.5pts @ 21/20
Finally I'll be taking a punt on Branden Grace beating Jimmy Walker today. On the same score after two days it may be hard to split these two but Walker was a shade fortunate yesterday with two eagles on the card to get him to this point on the board. Although we have a few quid on him on the outright he doesn't convince me he is playing as well as I thought he would do.
Grace was very solid yesterday and we all know what he can do when a course gets firm. He showed us that at Chambers Bay. Grace is a major player and has a host of good finishes so I'd expect a strong weekend from the South African starting at the expense of Jimmy Walker today.
B.Grace To Win 2 Ball - 2pts @ 21/20