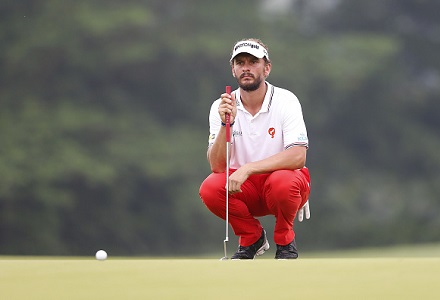 Niall Lyons looks to make it two winners in a row, after tipping Jordan Spieth to win the Open at 16/1.
I can't see the drama of last week repeating itself again on the European tour this week but opportunities still lie in wait for punters no matter the event. This is the third year of the European Open's renaissance having disappeared off the rota for what seemed a lifetime. It hasn't quite hit the heights the past two years as it once did when held at the K Club in the 90s and beyond but the journey to a different venue this year might just give this event a must needed boost. What we know about this course just outside Hamburg in Germany is that it is a brute of a course. Playing very long at 7500+ yards the pros will be in for a long walk, and even harder with the rain that has fallen recently. It is set to play as a par 72 and on the face of it looks like it will suit the longer hitters.
Charl Schwartzel is a weak favourite in an open betting heat. Charl started well last week before crumbling and is hard to rely upon. A long, wet course will suit the South African but he can blow hot and cold and his temperament never does him any favours. It is a weak event but I'll happily pass over the tournament jolly. Reed along the same lines has played some good stuff lately without making much hay. Flattering to deceive is probably the best term to describe him at the moment. Reigning PGA Champion Jimmy Walker also turns up but after being struck down with Lyme disease earlier this year has been struggling to find his top form ever since.
I've backed this lad a number of times to no success but Joost Luiten is another who must have a solid chance this week. The ever consistent Dutchman has gone on an impressive run of one missed cut in his last 20 events. That is a super run and what is surprising is that he hasn't contended at the top end of the leaderboard all that often. A top ten 2 months ago in Austria is his best result in a while despite some consistent finishes. Made cuts at all the French, Irish and British Opens is a feather in the cap and there's not a whole pile who done that. A long, demanding course suits Luiten as it gives him the opportunity to gain advantage with his solid long game. At the business end of tournaments it is this that has let him down also though. I was taken by his performance in the Open De Espana in the Spring of 2016 at Valderrama finshing runner up to Andrew Jonhston. Although this course will play nowhere near as tough I've been waiting on a course to come on the rota where I believe similar attributes will be needed. The rough will be clingy and the hazards / trees are to be avoided. Another multiple winner on tour in this field where plenty who are in this bracket look further away from winning a tour event than me. It's time for the Dutchman to strike again.
Joost Luiten - 1.75pts e/w @ 25/1
Alex Levy looks the obvious bet to me this week and I am surprised to see him at 28/1. The 33/1 posted by a small few didn't last and I'm surprised the 28s has lasted also. Levy is defending his title here even although his win last year was at different venue. Recent venues haven't quite been up his street with the difficulty involved and although this course will play long, and probably tough enough, it strikes me as perfect for Levy. He loves a long, wet golf course as he has shown before and I believe there is still improvement to come from the ever learning 26 year old. He just about has the highest win rate in this field with two wins in the last ten months. Levy knows how to get over the line and with weak favourites at the top of the betting I think he is just about the best bet.
Alex Levy - 1.25pts e/w @ 28/1
few below par performances by Thomas Detry over the last few weeks have forced the bookies to push his price out a fair bit in a weak contest. Whether this is warranted is up for debate but the last time we saw the Belgian in Germany he was finishing a shot off the final winning score in second place alongside Masters Champ Sergio Garcia. I'm prepared to take the risk on this occasion that the recent courses haven't been to his liking. The Albatross course in Paris (MC) is one of the most difficult they play all year and an ounce of experience doesn't go amiss. The Irish (T48) and Scottish (MC) Opens were both on links where again Detry may not feel comfortable. In Munich a few weeks back he was playing a parkland course and playing it damn well. I always like to see new potential stars in contention before I make a decision on whether to back them or not. This does mean from time to time I miss out on the odd win but that's something long term I believe is profitable. Detry impressed me that week and I think coming back to Germany when plenty at the top of the market had a tough week at Birkdale can only be a positive.
Thomas Detry - 1pt e/w @ 50/1