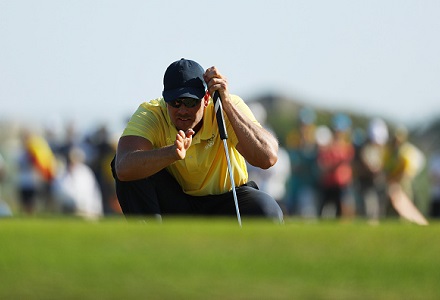 Everything points to a big showing from World No. 4 Henrik Stenson in Boston.
The TPC Boston is once again the host course for this weeks second installment of the Fedex series. The rough around this course is always tangly enough but it is playable as many have shown us down the years here. The winners enclosure here has been full of all types of golfers from the strategic to the bombers and there little way of telling which type will be favoured this week. What will be needed for sure is a decent short game. The closer you can get to the hole from the fairways will be key also.
Jason Day once again holds firm at the top of the market and with one win posted in the last five months I find it remarkable that he is still priced around odds of 13/2. Granted, none of the other worlds best are exactly firing and Day remains very consistent but as far as the win part of a bet would go it's stinking bad value. Many may consider it to be a decent each-way bet as he placed his last two tournaments, but not for me. If he doesn't win here this week surely we'll start to see him drift.
Claim NowBet £20 on outright winner and get £1 FREE BET for every 3 birdies scored
Dustin Johnson sits at a decent price at 12/1 and will be tempting for many but this field is strong in depth and I'm unconvinced he is in the form he was back in the Summer. McIlroy could bounce back anytime but again at 12/1 I can let him go unbacked. Spieth was the most tempting of the front runners because if he gets his putter going again any week the rest can kiss goodbye to their chances. The miracle worker will be back casting spells again soon, it's only a matter of time.
Henrik Stenson is available at 18/1 and given this course yields plenty of birdies should you throw your irons at the pin then he is better equipped than most. He pulled out of last weeks event with a pain in his troublesome right knee. This is enough to put many off but I'm an advocate of if you're teeing it up at all then your fitness must be half decent.
Stenson, up until last week, remains the form golfer in the world and I don't think he should be three times the price of Jason Day. He has two wins and a runner up in his last five starts with a win and a runner up spot posted here in Boston also. Everything points towards a solid performance and I'm prepared to take the chance that his knee holds up for four days.
Henrik Stenson - 1.5pts e/w @ 18/1
Lost -3pts
Tony Finau is a big price to go well this week. He missed the cut here last year but arrives in decent nick with a game that could overpower the golf course. He grabbed his first victory on tour in late March and has played some solid stuff since. 25th at the Travelers a few weeks back followed by a 12th placed finish last week at the Barclays shows that Finau may just be setting himself up for a run at this Fedex title. Many have talked about his game down the last few years and if you listen to some of the experts then you'll hear them waxing lyrical about his prospects. He has a fair bit of maturing to do in the next few years and it'll be interesting to see where his career heads but this week at 150/1 he is worthy of a bet. I don't see any other bets worth taking in this market right now. It isn't my favourite event so we'll keep it there.
Tony Finau - 1pt e/w @ 150/1
Lost -2pts