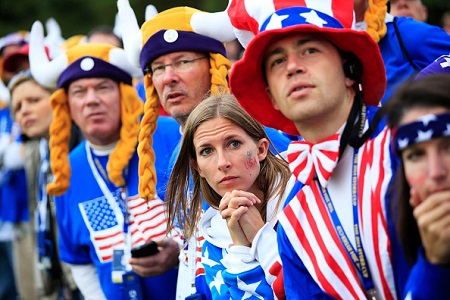 So the teams have been introduced and the fanfare has begun but more importantly we now have the pairings for the eagerly anticipated start of the 2016 Ryder Cup.
In match one we have Reed and Spieth up against Rose and Stenson. Two partnerships that were almost certain in my eyes. This is the highlight of day one and it is hard to know which way it will go. I would favour the yanks slightly due to the formidable partnership of Reed and Spieth. They will try to kick things off with a bang and even though they are up against Europe's strongest partnership, I feel they have the slight edge. Stenson hasn't been 100% of late. This could go the distance.
I expect McIlroy and Sullivan to beat Mickelson and Fowler. This partnership has been brewing for Europe and it became evident it would happen once they were paired with each other in practice. They are probably the two most light hearted, easy going members of the European team. There will be plenty of laughs between the pair and I believe it will lift the pressure off them. Phil is playing poorly of late and for me doesn't suit a foursomes game. Strange pairing from Love in my opinion. I expect the Rory/Sully partnership to thrive on day one and get Europe's first point on the board.
R.McIlroy / A.Sullivan - 2pts @ 23/20
Lost -2pts
Jimmy Walker and Zach Johnson take on Garcia and Kaymer in another hard match to call. Both logical partnerships but Walker and Zach certainly have had form dips recently and question marks surround their game. That being said, they are perfect for foursomes and could gel perfectly. This one is too difficult to call.
£10 Free Credit and a £500 Deposit Bonus
Dustin and Kooch play Pieters and Westwood in game four on Thursday afternoon and the yanks are worthy favourites. Dustins long game is in serious nick, and Kuchar's wedge game is as solid as a rock so they will be hard to beat. Westwood and Pieters doesn't strike me as a perfect partnership for foursomes. Indeed it should have been Willett it seems partnering Westwood, only for him to be dropped after his brother trying to hog the limelight for two minutes of fame. A weak decision that by Clarke if what we are lead to believe is true. This game should go
the yanks way
.
D.Johnson / M.Kuchar - 2pts @ 7/10
Won 1.4pts