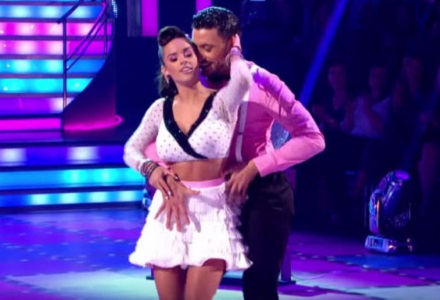 Thankfully,
Jeremy
finally went at the weekend as it all looked to be getting too much for him and the competition to get to Blackpool is intense. Everyone wants to perform in the famous Tower Ballroom.
Jeremy's exit leaves
Jamelia
and
Katie
as the two weakest dancers left in the competition and if either of them is in this week's dance-off, they will be leaving the competition no matter who they are up against. If the public vote the pair of them into the shoot-out, my feeling is that Jamelia would be the one to leave.
Her samba earned just 26pt but it's an extremely hard dance to pull off and she clearly struggled to get to the grips with the bounce of the dance, hopping at times to go with the walking during the routine.
Katie's rumba was much better, scoring 31pt, and she looked very sexy which is always worth a couple of extra points. However, she was always a step behind Anton which tells you she didn't have a clue what step was next. The public love her but she needs a performance next week or she's in big trouble.
Anita
was first up on Saturday with a quickstep, which is always a crowd pleaser. She danced very well, with plenty of fun, bounce, flicks and kicks. I thought her score of 32pt was a shade lower than the dance warranted (although you have to take into account the fact that judges are loath to hand out big scores on the first dance) but she's been regularly underscored throughout this series.
The foxtrot is one of my favourites but it's not an easy dance to pull off, especially the footwork.
Jay
was going really well until he made a huge mistake late in the dance, but for me it was still better than Peter's dance. Craig scored him a 6 which was just ridiculous but I suppose people are sick of his 'I'm nervous, I lack of personality and I've never danced before' persona, which of course is a complete lie! He's been doing it for years so please show us some personality!
Helen
hit the target with her tango, scoring 34 pts and this was yet another accomplished performance from her. She's been the most consistent dancer throughout the series, without been the best.
After being in the dance off last week,
Kellie
needed a performance to get her back on track and although I thought it was risky doing the samba to a hip hop track, I thought she was brilliant. It was a great performance and another on the night who was better than Peter, but scored less.
Peter's
Viennese Waltz was credited with 34pt but that shocked me. His feet were hidden by the smoke and it was yet another dance that was too quick for him, with too much going on, which meant we lost the romance of the dance. It looks to me like the BBC are desperate for him to make the final.
Georgia
was the star of the show on the night, earning a series-topping score of 39pt for her fantastic Charleston. It was probably a bit over the top that she got three 10's, but she performed a very daring lift in a quite brilliant overall performance. She has been a favourite of mine for some time now and she is the one dancer in the competition that just keeps on improving every week. For me she's the best dancer in the competition and will surely go very close to winning it.
Darren
Georgia May Foote - 1pt @ 11/4