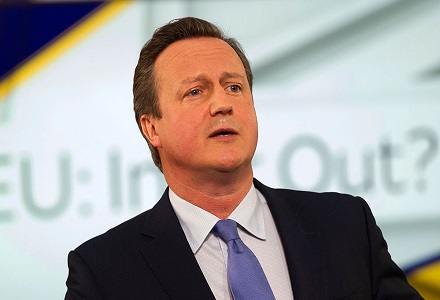 An evening of difficult televised questions live on Sky News has damaged David Cameron's reputation and shortened the odds on a vote for Britain to
leave
the European Union. What was always destined to be a difficult discussion with Sky's Faisal Islam turned into a damage control exercise as the journalist made jokes with the audience at Mr Cameron's expense.
The Prime Minister made his way to Sky well prepared with an in-depth knowledge of numerical facts but questions, supported by his previous statements, left him edging around the wider issues of immigration and movement control within the European Union. The Conservative party leader gave intelligent responses defending the EU, giving examples of industries that would suffer from a vote to leave including Car manufacturing and Agriculture.
Despite his knowledge of the figures Cameron was over talked and out gunned by a journalist who Cameron described as sounding 'like a leave campaigner'. A cynical studio audience laughed at Britain's leader as Islam asked 'what comes first, world war three or the global Brexit recession?'. The well planned and well executed question was a shot across the bows, referring directly to the remain campaign's current tactics described by the media as 'scaremongering'. The journalist's bold line of questioning was applauded by the audience, showing the public are too wise for the kind of approach taken by the Prime minister. Trying to avoid further humiliation Mr Cameron successfully sobered the audience's moods by reminding them of the wars of the last century and calmly steered the conversation back to manufacturing, a remain campaign safe haven. Cameron Denied scaremongering and was not shy to continue his use of flamboyant language as he describe leaving the EU as 'an act of economic self-harm' that would have 'a disastrous outcome for Britain'.
With public questioning out of the way for now the Prime minister will be happy with his performance and be glad no truly unanswerable questions came to the table. Going into the debate with the intention of damage control Mr Cameron left Sky News achieving his aims meaning the ball is firmly in Michael Gove's court during tonight's continuation of the programme.
With growing support and shortening odds for a vote to leave the European Union, yesterday's bet from Nigel Farage could have been called a shrewd move…If only he'd used Oddschecker before taking the plunge!
Leave - 1pt @ 13/5