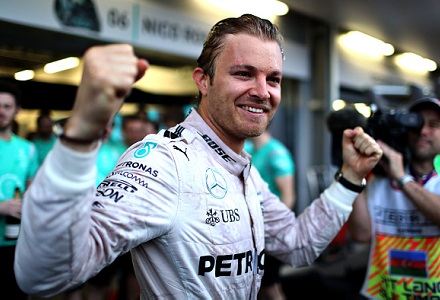 After eight races of the 2016 Formula One season, most British fans will be thinking Lewis Hamilton is happily closing the gap in the Drivers' Championship but, after a bad finish in Baku and still 24 points behind, can optimism really save our home grown hero?
Lewis Hamilton has been the bookies favourite to win the Drivers' Championship since the racing schedule began in March but, with only two wins from eight starts, the chances of Hamilton closing the gap on Nico reduce with every race. Optimism has always surrounded the British driver but the bookies may be about to change their minds and back the German driver as the favourite to take the historic trophy. Hamilton, as current world champion, has more than enough driving talent to reverse his points shortfall but with an exceptional start from Nico the tides may have turned in the Mercedes garage.
Nico Rosberg's consistent driving began at the start of the season with a four-race winning streak and has continued in Baku with his fifth win of the season so far.
As we look ahead to the Austrian Grand Prix, it's hard to predict a bad race for Nico as he is the only man to claim a victory at the Ӧsterreichring since the great Michael Schumacher in 2003. Lewis Hamilton's performances in Austria have been less impressive, losing his first place start to Nico on his last visit to the circuit.
As a calendar favourite of the German, Austria could be the turning point for Odds on the 2016 drivers' championship. Holding the fastest Lap record for the current track, Nico will be heading into qualifying with confidence and aiming for nothing less than a pole position start.
If Nico Rosberg were to beat Hamilton in Austria on the July 3, Lewis' deficit would exceed the all-important 25 point mark. A gap of this size at this point in the season would mean Lewis would be unable to reverse the shortfall with a single performance.
With a potential change of favourite on the horizon, there has never been a better time to back
Nico Rosberg
to win the Formula One Drivers' Championship for the first time.
Nico Rosberg - 1pt @ 11/8