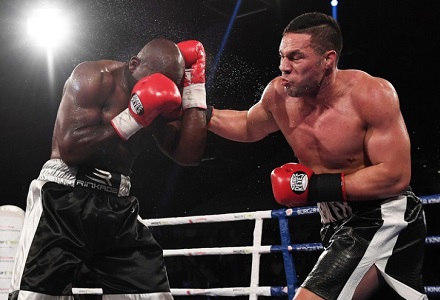 Matt Corner previews Thursday's heavyweight clash in Christchurch.
It's a Southern Hemisphere heavyweight clash in Christchurch this Thursday as Joseph Parker takes on Solomon Haumono as Parker builds up to his IBF title challenge against Anthony Joshua later this year.
Joseph Parker (19-0) has already earned his opportunity to fight Anthony Joshua for the IBF world title but this Thursday he puts it all on the line to fight a former international rugby player in the ring.
The 25-year-old fighter is an exciting prospect in the division and is widely regarded as the only fighter scheduled to face Joshua who is capable of inflicting any serious damage, and is keen to do so when the pair finally meet. Unwilling to sit idly by waiting for the trip to the UK, the Parker camp has taken a fight in Christchurch New Zealand against another potent heavy weight. Parker, having narrowly missed selection for the 2012 Olympics stands at 6ft 5in and carries an unbeaten professional record of 19-0, ending 16 of his bouts by knock out.
Solomon Haumono (28-2-2) has been boxing professionally, on and off, for the past 16 years and has declared now is when he will become heavyweight champion of the world. The former Rugby League second row is aware winning this fight against Parker would give him an opportunity to fight for a world title and is not prepared to give up on the opportunity.
At 6ft 2in and with a shorter reach Haumono will find it difficult to land effective punches on his fellow kiwi as the fighters go head to head on Thursday. At 40 years old and over 17 and half stone, the hard hitting heavyweight holds a professional record of 28-2-2, ending 21 of his fights by knock out.
The Physically dominant Parker will be extremely confident going into this contest, typically a boxer at his stage of his career would be unwilling to risk a title fight with Anthony Joshua if he was not completely confident he was going to win. Parker will be looking to add another knockout to his record as he takes on a boxer coming to the end of his career. Solomon Haumono will struggle to get in range to land punches on the taller fighter, but backers shouldn't underestimate the underlying fitness Haumono carries after a long career in professional rugby.
I predict a very one-sided fight in favour of Joe Parker but Solomon Haumono's fitness and experience will take him further through the fight than initially expected. I can see Parker winning the fight by knockout in the 4th to 6th round.
Parker 4-6 - 1pt @ 13/8