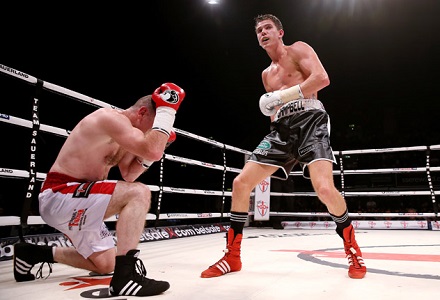 In a weekend of closely matched boxing, some of the best British boxers will go up against tough opponents but will Olympic lightweight champion Luke Campbell have any problems dealing Argenis Mendez?
This Saturday in Leeds, Luke Campbell (13-1) will go head to head against Argenis Mendez in the first defence of his Commonwealth lightweight title. A glittering 12-0 winning run from Campbell was cut short in December when the Olympian met Yvan Mendy at the O2 arena and was handed his first career defeat. Campbell has spoken openly to the media in relation to the loss that for him was 'a blessing in disguise' and is confident he is a better boxer because of it. In his first comeback fight Campbell beat Gary Sykes for the vacant Commonwealth title in a 2nd round knockout. As the standard of Campbell's opponents gradually increase Luke finds himself pitched against Mendez in what should be a very one-sided bout.
Standing at the same height as Mendez Campbell, he will use his right jab and dangerous South paw stance to out box Mendez in the initial stages and around the mid-point in the fight will be looking to end the bout by knock out. Luke has fought and beaten harder opponents and will be entering the ring confident of a knockout victory, with one eye on his next professional bout.
Although the odds are stacked against Mendez (23-4-1), the 30 year old from the Dominican Republic is no journeyman with 12 of his wins secured by knock out punches. Mendez will try harder than Campbell's previous opponent, but in the latter stages of the competition may well find the gulf in boxing quality too much to overcome. Mendez comes to the fight after suffering a recent fifth round knock out to Easter Jr and will be cautious not to be caught as early this Saturday.
This fight is a step up in standard from Campbell's last fight but is nothing in comparison to opponents he has faced in the past and all the signs point to this fight ending early when Mendez is knocked out.
With the result dependent on how fit Mendez is on the night he could well find himself out boxed for the first half of the fight before being knocked out in rounds 7 to 12 at best odds of 14/5.
Campbell to win by Knockout Rounds 7-12 - 1pt @ 14/5