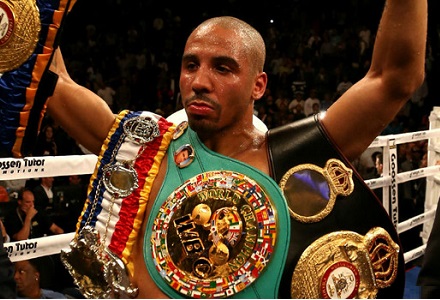 It couldn't be more one sided in the ring this weekend
This weekend live on Box Nation, the Oracle arena in California hosts one of the biggest mismatches in recent boxing history as 2 time World Champion Andre Ward (29-0) faces little known Colombian boxer Alexander Brand.
As the final hurdle before Ward faces Light Heavyweight Champion Sergey Kovalev in November the televised contest is talked about as one of the most one sided bouts of Ward's career. With odds of 1/100 on Ward to beat Brand this weekend it's clear to see that the bookies have not missed the dramatic difference in these two boxers. Sunday Morning's fight is being held at light heavyweight, Despite Brand only being rated to fight at middleweight, a category 2 divisions below the former Olympic light heavyweight champion.
Ward rose to fame after winning gold at the Athens Olympics in 2004 and has since turning professional has won all 29 of his fights ending over half of those by knockout. At 6ft 1in and with a reach of over 71 inches the American boxer is so physical dominant it's difficult to see how this fight has made it onto the HBO TV schedule. At 32 some pundits have suggested Ward is not the boxer he once was and may end up losing to Sergey Kovalev in November but none of them think he will have any problems dealing with Brand this weekend.
Brand's record of 24-1 may sound impressive but the Colombian, who is almost 40, has rarely fought any boxers of note and 'BoxRec' has only ever recorded the names of 8 out of his 25 professional opponents. Brand relies heavily on his power punching and has a knock out ratio to match at 73% but will struggle to achieve anything in this weight division if he cannot out box his opponent.
Brand will be heading into this fight with dollar signs in his eyes and will try to swing heavy shots on the off chance that he catches ward but unlikely he will be able to knock out the former unified WBA, WBC world champion. Brand's heavy handed style of boxing will leave him open to punishment and it's much more likely this fight will end with Ward knocking Brand out.
Ward to Knock out Brand - 1pt @ 8/11