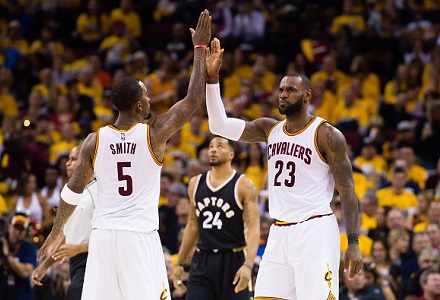 Gareth Freeman previews the first clash between Cleveland Cavaliers and Golden State Warriors.
Cleveland Cavaliers at Golden State Warriors - Friday 02:00
Golden State Warriors and Cleveland Cavaliers face off in the NBA Finals to complete a trilogy every neutral hoped for.
The Warriors will probably feel this should be a shot at completing a 'three-peat' after allowing a 3-1 series lead to slip away last year. That will provide all the motivation they need but after sweeping all of their Western Conference opponents there are concerns they may have had too much time off going into Game 1 at the Oracle Arena.
Golden State completed their 4-0 series win over San Antonio Spurs on May 22, three days before the defending champions ended their Conference Finals campaign after somehow being taken to five games by Boston Celtics. Cleveland seemed all set to continue their domination against a Celtics side without Isaiah Thomas but they allowed complacency to creep in during Game 3, and perhaps that was an early warning sign they needed before their opener with GSW.
The two teams met twice in the regular season with both winning their home games. However, while the Cavs grabbed a narrow victory in Ohio, the Warriors managed a 126-91 blowout.
After over a week off it may take the Warriors a little time to rediscover their sharpness and we shouldn't expect such a lopsided score line in Game 1 in the early hours of Friday morning.
The point spread is set at seven and - credit to the bookmakers - that does look like a competitive mark but get behind Cleveland +7. The Cavs know they have to win in Oakland at least once to take the Championship as the Warriors have home court advantage, and they will see this as a great opportunity against a Golden State side who haven't played in nine days.
As for the series itself this one could go the full distance. Player-for-player it is hard to argue against Golden State but the way Cleveland have played throughout the postseason means they cannot be discounted and rather than pick a winner it makes more sense to look at the total games market. We were treated to seven games last year, six in 2016 and over the last seven years three of the NBA Finals have seen 4-3 series wins so back the series to go to seven games at 21/10.
Cavs +7 - 1pt @ 1/1
NBA Championship total games 7 - 1pt @ 2/1