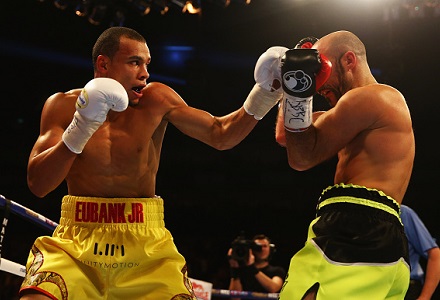 The Welshman could pay a heavy price if he doesn't see off Eubank Jnr in the early rounds.
Despite fighting talk from Welshman Tom Doran, his British Middleweight Title fight against the infamous Chris Eubank JR could shape up to be a very one-sided contest at the O2 arena on Saturday the 25th.
With an unbeaten professional record of 17-0, Doran has claimed seven of his wins by Knockout, but even with this impressive start to his career, the odds are stacked against him as he mounts his challenge for the Middleweight title. The 28-year-old fighter may come unstuck if he tries to continue his success and knock out the younger, more experience Eubank JR early on in the fight. Known well in boxing circles for the explosive second round win over Luke Keeler in April, the hard-hitter from Connah's Quay may suffer serious damage if he attempts to reproduce that career defining moment on the 25th.
With the bookies predicting a whitewash in favour of Eubank JR, the thoroughbred boxer will be looking to exploit gaps in Doran's defence and end the fight early after an energetic start from his opponent.
Open a BETFAIR account and when you bet £10, get £30!
During Eubank JR's recent fight to secure the British Middleweight Title, the 22-1 fighter ended the career of promising boxer Nick Blackwell after punishment in the 10th round left his opponent in a medically induced coma for over a week. As Eubank JR's experience grows, he is quickly becoming a force to be reckoned with in the Middleweight category and will take this opportunity to defend his British title with intelligent boxing and well timed heavy shots.
While Doran looks to end this bout prematurely with the kind of early aggression we've seen in his recent fights, Eubank JR will be calling on his natural speed and agility to avoid punishment during the opening rounds of the contest. With a view to test the Welshman's fitness the Middleweight champion will begin to increase the tempo as the fight progresses but will waste no time in dealing with the challenge on his title. Supported, ring side by his father, Eubank JR will use his athleticism and stamina to end the contest after allowing his opponent to tire.
With a tactical start to the fight from the Eubank corner, it looks likely Doran will be
knocked out between the fourth and sixth rounds
after wasting valuable energy trying to secure an early knockout victory for himself.
Eurbank 4-6 - 1pt @ 15/8