Beverley Betting Odds
Change Track

UK & Ireland Horse Racing

UK & Ireland Horse Racing On 22/9/2021

UK & Ireland Horse Racing On 23/9/2021

International Horse Racing

International Horse Racing On 22/9/2021

International Horse Racing On 22/9/2021

International Horse Racing On 25/9/2021
Beverley in East Yorkshire has hosted flat racing for over 300 years. Known as the 'friendly racecourse', it is located above the market town, offering a full view of the course and surroundings.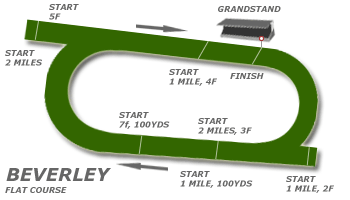 The back straight is mostly downhill before reaching a tight and steep downhill bend into the home straight. From there on, the final three furlongs are uphill, and the finish is very stiff. A chute on the home straight provides a 5f start. The 5f course is uphill throughout and there are two distinct right handed jinks after a furlong and at halfway.

Draw Bias: Beverley has one of the strongest draw biases in the country, and up to 1m low draws are strongly favoured, especially over the 5f trip, where high draws find it extremely difficult to win. The course is at a slight angle which means that the water drains towards the stands side, making the far side, next to the inside rail, by far the quickest part of the track. On soft or heavy ground, there can occasionally be a strip of ground on the near side rail which is quickest, but it is rarely used. An experiment, putting the stalls on the stands side, produced an equally strong bias to those drawn high, so the stalls will most likely stay on the far side for the time being.